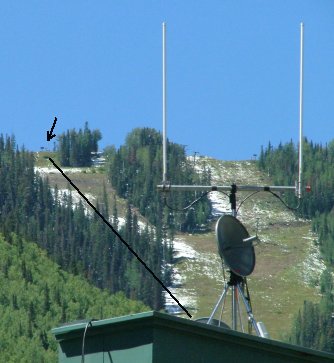 Microwave link and base station antenna in place at Telluride Film Festival - Downtown Dispatch Office
The black line shows the path, and the arrow indicates the location of the truck. The other dish shoots to an additional remote receive site.
The truck system includes a Quad T-1 5.8ghz digital microwave system which is for the purpose of establishing a multi-channel audio link between the dispatch center / voting system, and the transmitter truck. This allows the truck mounted repeaters to be place on high ground for optimal coverage, and the dispatch / audio routing center to be placed where it is most accessible

This microwave system is optimized for transport of audio circuits used with communications systems, as well as multiple T1 rate circuits for data connectivity.

The system provides 24 audio circuits to and from the truck. It can provide 4-wire audio, E & M Signalling, and 2-wire audio on one of the available T1's.

Up to 4.5mbs of bandwidth can be aggregated for transport of data, or the onboard routers can be used to assemble IP Networks on individual T1's.

Additional microwave systems can be used to bring audio from voting receivers or remote dispatch audio into the audio routing / voting system from other locations.
The system operates on 2' or 4' dish antennas which are easy to install and support. Maximum range of these hops is 40 miles with good sites.
That format provides the ability to support not only audio circuits for radio control, but also V.35 and LAN bridges for computer networking.
Temporary Mountaintop site in place at Telluride Film Festival