Tracking Data Network and Site Supervision Network
While all robot vehicles ('bots) competing in the Grand Challenge were autonomous and not remote controlled, it was still necessary to be able to assert emergency stop and pause commands in the event that a 'bot left the course, went out of bounds, or in case a faster 'bot was to be allowed to pass a slower 'bot. Each 'bot was followed along the course by a Dodge Pickup Control Vehicle which could run, pause, or disable its companion 'bot.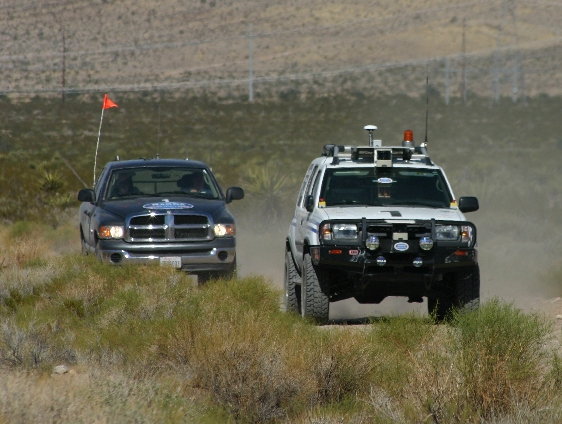 DARPA utilized a vehicle emergency stop and tracking system designed and built by OmniTech Robotics, and supported by SRS Technologies. One of the features of the E-Stop system is that it transmits accurate vehicle location several times per second from every E-Stop equipped vehicle on the course. The tracking system is near real-time, with position updates on the order of 500msec. Each of the four tracking nodes could be receiving data from a substantial number of vehicles at any time, with the probability that multiple nodes would be receiving the same data and sending it downrange, so the aggregate data traffic across the network could easily equal 4 times the actual data. There were 20 competitor vehicles and 20 control vehicles all sending location data, resulting in a substantial amount of data being gathered and transmitted back to the COC.
At each of our comm sites, an E-Stop node gathered tracking telemetry and packaged it for transmission to the COC as UDP multicast traffic. The node consists of an E-Stop data radio and a laptop computer. The laptop conditions the data and acts as an RS232-to-IP translator. To power the laptops efficiently from 24VDC prime power, we used Lind Electronics DC-DC converters. These converters gave us a substantial efficiency advantage over an inverter or UPS.
The data was transmitted on the third T1 in our microwave network to the NOC where it was massaged to strip duplicate packets before being routed to the COC for display on 43 judges computers and large-screen situational displays.
At each site, an ADTRAN 1224R integrated 24-port switch/router with dual T1 NIMs (WIC's in Cisco-speak) handled the high volume of data without a hitch and relayed the data downrange to the next router in the chain. We utilized the 24VDC powered variant of the 1224 since all equipment at the sites had to operate on either 12VDC or 24VDC. This makes backup power much more efficient by avoiding the inefficiencies of inverters or UPS's.
For the Site Supervision Network Data (DasyLab and Microwave management), each site also contained a second ADTRAN 1224R 24-port switch/router which operated over a functionally identical, but isolated, parallel network on the second T1 in the microwave network.

Each TRACER microwave radio has an RS232 supervision port. To get the RS232 data downrange, we used DigiOne RS232-to-IP device servers from B&B Electronics. These handy little gadgets take RS232 data and package it for transmission over an IP network. They are the perfect thing to use for an RS232 administered device which does not have SNMP capability; or in the case of the microwave radios, a physical layer device. It was possible to "see" every microwave radio in the network at each end of each leg of the network. We were also able to remotely access the repeater programming and diagnostics with the Motorola Radio Service Software (RSS) using these devices.
At the COC/NOC network center, a Cisco 3725 and a 2611 provided by DARPA and administered by Mike Amato of SRS handled outside network access and master sifting of all data arriving at the NOC.
We brought in Cory Horn of ECFBN, Inc. to do our router configurations and network administration, and Cory was a key player in working with SRS to configure and administer the Adtran and Cisco Routers. We cannot say enough good things about Cory and his talents. He is a pit bull who will not eat or sleep until a problem is solved, or a configuration complete. He is the consummate team player.
Tracking Data from the nodes at our sites was routed to SRS and inserted into the COC network. At the COC, a tracking and display application written by SRA International displayed the data as individual icons superimposed over a satellite photo of the course area.
3rd St. R & D's task in the tracking network was to install and optimize the 900mhz antenna systems at our tower nodes, and on the control vehicles. We also worked with competitor teams to make suggestions to optimize the performance of the E-Stop systems installed on their vehicles.
When all was done, the tracking system performed beautifully. Over the whole 130+ mile course, covering a land area of approximately 500 square miles, there was an aggregate total of approximately 1000-1500 feet where tracking data was intermittent. Pretty amazing for 1-watt data radios mounted on vehicles in mountainous terrain.