Each of these shelters can function as remote receive sites in a voted multi-site system, as standalone individual repeater systems, as microwave repeat stations, or any combination thereof.

Multiple site systems can operate in Star, Ring, or linear line microwave topologies with four or eight T1's passing through. With the addition of Wireless LAN equipment, they can function as wireless access points as well.

One contains six 100W Motorola MTR2000 UHF repeaters, another contains three MTR2000's arranged as a wide-area VHF/UHF/800 Interoperability system, and the last two are receive sites for a multi-site voting system. All contain T1 channel banks, microwave equipment, and routers; as well as critical parameter site remote monitoring equipment.

Maximum microwave hop distance between sites is 42 miles with favorable topology.

Each shelter has an integral 60A power distribution with 100' of feeder cable. They can provide up to 30A to external equipment or devices.

They can be loaded onto a specialized truck, driven to a remote location, and unloaded. In the absence of utility power, they will operate on 24V DC prime power without air conditioning if the ambient temperature conditions permit. With air conditioning, they can operate from a 5000 watt generator and provide DC backup for the electronic systems.

Back to Large Systems, or 2004 Darpa Page, 2005 Darpa Page, 2007 Darpa Page.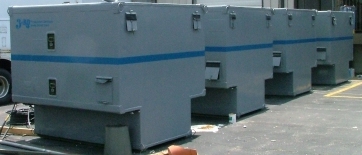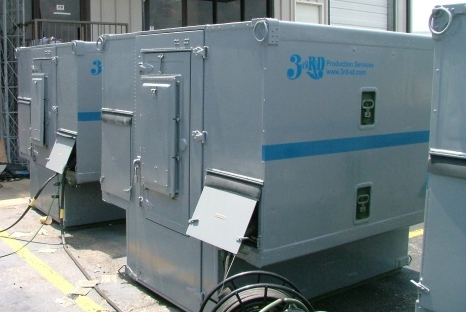 Pickup Transportable shelters.