3rd St. R & D - 109 Shawn Road Kirbyville, MO 65679 417-336-4045 Mail Only
Warehouse - 197 Cooncreek Parkway Hollister, MO 65672 Shipping Only
---
Live Sound, Lighting, Crowd Control/Event Security, Communications, Production Services
---
3rd St. R & D Production Services- a little history
3rd St. R & D began life as a custom builder of musical instrument amplifiers in Wichita, Kansas in 1970; in Greg Carttar's apartment at 3218 E. 3rd Street. GI's coming home from Vietnam started bringing Japanese Stereo equipment with them, opening the high fidelity market, creating a mass interest in stereo.
3rd St. R & D relocated to Lexington, Nebraska in 1972 and began building custom stereo equipment to order. Greg's Dad had gone to work for Reach Electronics In Lexington, a manufacturer of pagers and tone signalling equipment; and Greg had gone to work for Plectron in Overton, Nebraska, a manufacturer of Fire Department tone alerting receivers; while building 3rd St. R & D.
We needed real-world test loads for the amplifiers we were building, so we built some speaker cabinets with high power (for those days) woofers. We began getting requests for sound service, and in 1974 some friends in a local band got a gig opening for a national artist, the gig being contingent upon them supplying the PA for the show. They didn't have one. We had a bunch of amplifiers and some speakers. We rented, we borrowed, we built a PA capable of doing a 3 piece acoustic act and a garage band in a 500 seat college auditorium. (ah, the big time). We were able to get at least two each of a wide variety of additional horns and amps, and we had prototyped a small 8 channel mixer. At the time, there were not very many PA mixers except for banks of M67's and only a few studio consoles which were not made for road use. The gig went OK and the acts' manager offered us some more gigs at small college dates.
A change of direction and full-time
In 1975, Stanal Sound of Kearney, Nebraska (wisely) backed out of a summer-long gig at a fledgling country music park in western Nebraska. We took the gig over the earnest warnings of Chris Foreman. We took a bath when the park closed. Stanal fed us a few gigs over the next couple of years while they were in their heyday. Stan Miller, owner of Stanal, and Chris Foreman and Monty Krabiel of Stanal; and Brock Jabara of Superior Sound (Now Galaxy Audio) helped us learn how to do it right and sold us the right electronics.
One thing led to another, as it always does, and we picked up more and more business. In 1976, we provided sound services for C.W. McCall of "Convoy" fame, whose touring band was actually Mannheim Steamroller.
As a result of a gig we worked as a subcontract for Stanal (Judy Collins at Red Rocks), we met Johnny Cash's manager, Lou Robin. In 1977, Lou offered us Steve Martin as a client. When Carlo Sound left Cash to take on Little River Band in 1979, we took on The Johnny Cash Show as well.
From 1979 until December of 1997 when he was diagnosed with his illness and retired, we provided sound for Johnny Cash for thousands of performances.
In the meantime, we built other systems which were out with Steve Martin from 1977 through 1980, The Oaks for a while, and The Statlers from 1986 until 1991. We've done fairs, we've done corporates, symphonies, laser shows, special events, and auto racing.
Another Change of Direction
In 1981, we took a little side trip into satellite teleconferencing and networking. As a subcontractor to almost all of the original satellite teleconferencing companies, we provided transportable downlink services, projection, site audio origination, uplink operation, and video quality control. In 1984, we were running Videostar's Toll Operations Center (TOC) which fed uplinks from the GOP Convention in Dallas which transmitted CNN, Canadian Broadcasting, Rio Globo, Gannett, and many other feeds from the convention.
| | |
| --- | --- |
| Greg in Videostar's Satellite Toll Operations Center - Dallas GOP | Uplink Row at Dallas |
| | |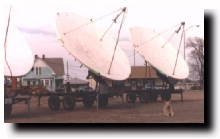 Transportable Downlink Fleet with
Bo the Wonder Dog


I

n 1983, 84, and 85 we provided origination site engineers for the Joint Middle East Excercise (JMEEX) a hypothetical logistical exercise staged by the Army Staff College in Leavenworth, Maxwell AFB, Quantico Marine Headquarters, and The Navy which explored methods of streamlining logistics through enhanced audio-visual communications for inter-service operations in a hypothetical middle east conflict. This interconnected satellite video and audio conferencing network was encrypted with one of the early and cantankerous video encryption systems, and we were able to keep it running for them.

We participated in many, many adhoc satellite conferences providing these services.

In 1991 we relocated to Hollister, Missouri to be near Branson to provide technical support for Johnny Cash's Theater in Branson. Although John didn't stay in Branson, we built a nice fixed base business servicing theater customers providing support/maintenance services, backline, equipment rentals, and lighting for video.

We have done audio, audio interconnect, and quality control for several Television Specials originating from Branson, including Wayne Newton's Flood Relief Telethon, Feed The Children, and several live broadcasts from various venues for Trinity Broadcasting. Key Grip projects include Kenny Rogers' Christmas Special featuring Garth Brooks.

Not just radios...Communications

(Fast Rewind back to the late 60's)

Prior to starting 3rd St. R & D, Greg Carttar had grown up in his father's communications business in Wichita, Kansas. Kansas Two-Way Radio was the General Electric mobile radio install/maintenance entity in Wichita, and maintained and installed all the non-tactical radio systems at McConnell AFB in Wichita, and non-tac radio at the missile silos which ringed Wichita and McConnell; as well as all the GE business mobile radio systems in Wichita and Sedgwick County.

Kansas Two-Way, Greg's Dad (WØAOG) and lead technician Don Chase, built and arranged tower space for the first 2-meter FM Ham Radio repeater in Wichita, (WØDKU-Don Chase's Call) around 1965 using GE Progress Line gear. The DKU repeater was at 450' on an FM Broadcast Tower at 61st North in Wichita. This 34/94 repeater was used for a very effective storm warning net in cooperation with the Wichita Weather Bureau to spot and investigate Tornado activity. Greg (WAØLCZ) learned an appreciation for accurate and concise communications methods and procedures under high stress conditions.

Kansas Two-Way became Comtronics Corp., and was sold. The Carttar family relocated to Lexington, Nebraska, with Greg's Dad joining Reach Electronics (manufacturer of pagers and terminals) and Greg joining Plectron Communications (manufacturer of Fire Alerting Receiver and Terminals); but Greg maintained an interest in personal communications, technology, and an active interest in Ham Radio.

(Fast forward back to the 70's and 80's)

3rd St. R & D's Production Communications effort grew out of frustration with communications at events that 3rd St. R & D had been involved in. From helping to deal with complex communications systems as a teenager working for his Father, Greg had a foreknowledge of RF communications systems and techniques.

Experiences on the road and with large productions and logistics, channel conflicts and other problems planted the seed for a service which combined communications equipment and services with "Rock and Roll" logistics regarding speed, flexibility, and reliability.


By 1991, this concept had matured into a flexible and adaptable communications plan which could be tailored to any event.

In 2004, we got a call from DARPA, The Defense Advanced Research Projects Agency, regarding a robotic vehicle development event they were staging in the Mojave Desert. It involved a very large geographical area and they required reliable communications over a 150 mile range. That led to a 3-event series of events for DARPA, The two DARPA Grand Challenges and the DARPA Urban Challenge; where 3rd St. R & D provided very large temporary radio communications systems, microwave data backhaul backbone, and comprehensive power distribution systems for the Command and Control complexes.

Today, 3rd St, R & D provides communications services and equipment for special events, film and music festivals, and venues as stand alone systems, short-term expansions of their existing systems, and full-scale mediated communications environments for events utilizing large inventories of radios to help with the organizational/logistical/communications aspects of those events. See "Regarding Mother" .


See:
http://www.3rd-st.com/2004_darpa_grand_challenge.htm
2005 DARPA Grand Challenge voice and data system article
2007 Darpa Urban Challenge